Mook Jong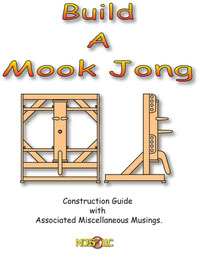 Detailed construction steps, list of materials, CAD drawings and many photos for building a commercial grade wooden practice dummy.  This is a serious woodworking project that will require experience and tools to complete in a reasonable amount of time. 

If you are looking to build a flimsy PVC pipe and pole unit, this may not be the instruction manual for you. 
This third edition adds even more photos and construction details.  It also includes alternate Mook Jong models.
Mook Jong Sample Pages
This is a free preview of our 90 page book.
New Jong Web Example Pages.pdf
Adobe Acrobat Document
518.6 KB
Download Now