KidsTricity-1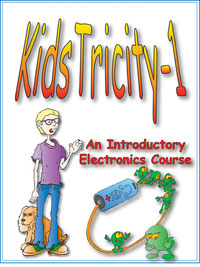 An introductory electronics training course for students aged 7 and up. The course covers basic electronic processes sufficient for a fundamental understanding of components and process required to construction an AM radio as the final project.
Consisting of 9 Lessons, the course is designed to give hands-on practice in building and measuring active circuitry which underlies the technical foundation of electronics. 
An Elenco Snap Circuits SC 500 Kit is recommended with this course.

Click Download for a Freee Sample
KT-1 Rev 11 PDF Example Pages.pdf
Adobe Acrobat Document
2.0 MB
Download Now via Gumroad