KidsTricity-1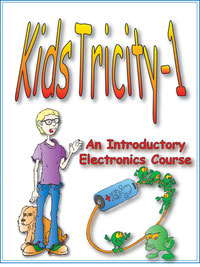 An introductory electronics training course for students aged 7 and up. The course covers basic electronic processes sufficient for a fundamental understanding of components and process required to construction an AM radio as the final project.
Consisting of 9 Lessons, the course is designed to give hands-on practice in building and measuring active circuitry which underlies the technical foundation of electronics. 
An Elenco Snap Circuits SC 500 Kit is recommended with this course.  (Scroll down for description).

Click HERE for a Free Sample.
KT-1 Rev 11 PDF Example Pages.pdf
Adobe Acrobat Document
2.0 MB
Download Now via Gumroad
Elenco SC-500 Kit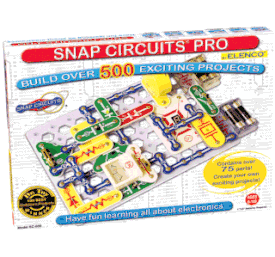 This Kit contains over 75 modular snap-together parts allowing students to build more than 500 electrical experiments.
This kit can help students to construct projects related to transformers, relays, transistors, and diodes.  
Learn about series and parallel circuits, AM/FM radios, resistance, and capacitance.